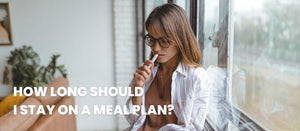 How long should I stay on a meal plan?
At FITTERY, our meal plan clients range from 1 week to 1 year. There is no perfect duration and we always tell our clients we are happy to have you for however long you wish to stay with us. However some questions come up more often, including what is the best meal plan for weight loss results and we will try to address some of them here. 
Know your body before you start a meal plan
In a nutshell, the answer depends on various factors, including the individual's discipline in eating FITTERY meals, starting weight, exercise regime, natural metabolism, and weight loss goals. We encourage all clients to use our 'Know Your Body' calculator to get a better sense of their body's calorific requirements and expectations. However as a general guide, new clients can consider the following: 
One-week

Meal Plan

:

 

 

 
Following a 1 week meal plan can help clients jumpstart their weight loss journey. It is also a good way to try out our meal plan service and menu offering. Some clients also use the 1 week meal plan as a "quick cleanse" or "1 week detox" program.  
Two-Week

Meal Plan

:

 
Following a 2-week meal plan will give clients a better idea of how their body responds to the meal plan as well as more noticeable weight loss results. Studies have shown that it takes at least two weeks to begin to establish new habits, and sticking with a meal plan for this amount of time can help promote sustainable dietary changes along with improved energy levels.  
Three-Week

Meal Plan
Studies have shown that it takes an average of 21 days to establish new habits. Following a 3-week meal plan, clients should begin to see more significant weight loss and improvements in overall wellbeing, including better digestion, clearer skin, and improved mood. 
Four-Week

Meal Plan

 
In general, a four-week meal plan is the optimal duration to see the best results. Studies have shown that this amount of time is necessary to see sustainable changes in your eating habits by allowing your body time to fully adapt to the new diet. This is highly important as your tendency to 'rebound' is largely based on how well your body adapts to your new calorie controlled diet. This duration may be a good choice for clients who want to lose weight at a steady and sustainable pace, as well as those who want to create lasting healthy habits. 
Conclusion:

 
At FITTERY, you are not just purchasing healthy meals (most health restaurants can offer this) but rather the support involved in helping you reach your goals. We offer nutritionist support, minor allergy request, daily menu changes, pausing meals and much much more to help make your weight loss journey as easy as possible.  
Sources: 
Lally, P., van Jaarsveld, C. H. M., Potts, H. W. W., & Wardle, J. (2010). How are habits formed: Modelling habit formation in the real world. European Journal of Social Psychology, 40(6), 998-1009. doi:10.1002/ejsp.674

 
Khandouzi, N., Saeidi, M., & Soroush, A. (2016). The effects of 3-week consumption of broccoli sprouts on inflammatory markers in overweight subjects. International Journal of Food Sciences and Nutrition, 67(7), 891-895. doi:10.1080/09637486.2016.1208734

 
---